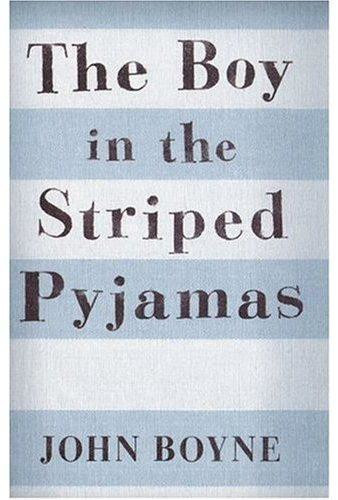 The Boy in the Striped Pyjamas
Ads
for life was an easy thing.
'But we had plans,' he protested.
'Plans?' asked Mother, raising an eyebrow. 'What sort of plans?'
'Well, that would be telling,' said Bruno, who could not reveal the exact nature of the plans – which included causing a lot of chaos, especially in a few weeks' time when school finished for the summer holidays and they didn't have to spend all their time just making plans but could actually put them into effect instead.
'I'm sorry, Bruno,' said Mother, 'but your plans are just going to have to wait. We don't have a choice in this.'
'But, Mother!'
'Bruno, that's enough,' she said, snapping at him now and standing up to show him that she was serious when she said that was enough. 'Honestly, only last week you were complaining about how much things have changed here recently.'
'Well, I don't like the way we have to turn all the lights off at night now,' he admitted.
'Everyone has to do that,' said Mother. 'It keeps us safe. And who knows, maybe we'll be in less danger if we move away. Now, I need you to go upstairs and help Maria with your packing. We don't have as much time to prepare as I would have liked, thanks to some people.'
Bruno nodded and walked away sadly, knowing that 'some people' was a grown-up's word for 'Father' and one that he wasn't supposed to use himself.
He made his way up the stairs slowly, holding onto the banister with one hand, and wondered whether the new house in the new place where the new job was would have as fine a banister to slide down as this one did. For the banister in this house stretched from the very top floor – just outside the little room where, if he stood on his tiptoes and held onto the frame of the window tightly, he could see right across Berlin – to the ground floor, just in front of the two enormous oak doors. And Bruno liked nothing better than to get on board the banister at the top floor and slide his way through the house, making whooshing sounds as he went.
Down from the top floor to the next one, where Mother and Father's room was, and the large bathroom, and where he wasn't supposed to be in any case.
Down to the next floor, where his own room was, and Gretel's room too, and the smaller bathroom which he was supposed to use more often than he really did.
Down to the ground floor, where you fell off the end of the banister and had to land flat on your two feet or it was five points against you and you had to start all over again.
The banister was the best thing about this house – that and the fact that Grandfather and Grandmother lived so near by – and when he thought about that it made him wonder whether they were coming to the new job too and he presumed that they were because they could hardly be left behind. No one needed Gretel much because she was a Hopeless Case – it would be a lot easier if she stayed to look after the house – but Grandfather and Grandmother? Well, that was an entirely different matter.
Bruno went up the stairs slowly towards his room, but before going inside he looked back down towards the ground floor and saw Mother entering Father's office, which faced the dining room – and was Out Of Bounds At All Times And No Exceptions – and he heard her speaking loudly to him until Father spoke louder than Mother could and that put a stop to their conversation. Then the door of the office closed and Bruno couldn't hear any more so he thought it would be a good idea if he went back to his room and took over the packing from Maria, because otherwise she might pull all his belongings out of the wardrobe without any care or consideration, even the things he'd hidden at the back that belonged to him and were nobody else's business.
Chapter Two
The New House
When he first saw their new house Bruno's eyes opened wide, his mouth made the shape of an O and his arms stretched out at his sides once again. Everything about it seemed to be the exact opposite of their old home and he couldn't believe that they were really going to live there.
The house in Berlin had stood on a quiet street and alongside it were a handful of other big houses like his own, and it was always nice to look at them because they were almost the same as his house but not quite, and other boys lived in them who he played with (if they were friends) or steered clear of (if they were trouble). The new house, however, stood all on its own
Weitere Kostenlose Bücher