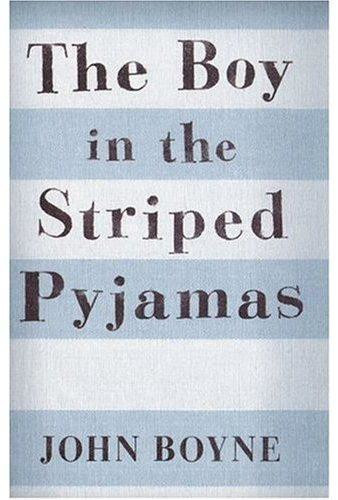 The Boy in the Striped Pyjamas
Ads
and wasn't quite sure what he was supposed to do with one: eat it, ignore it or kick it down the stairs. Instead he gave Bruno a quick nod and continued on his way.
'Who was that?' asked Bruno. The young man had seemed so serious and busy that he assumed he must be someone very important.
'One of your father's soldiers, I suppose,' said Maria, who had stood up very straight when the young man appeared and held her hands before her like a person in prayer. She had stared down at the ground rather than at his face, as if she was afraid she might be turned to stone if she looked directly at him; she only relaxed when he had gone. 'We'll get to know them in time.'
'I don't think I like him,' said Bruno. 'He was too serious.'
'Your father is very serious too,' said Maria.
'Yes, but he's Father,' explained Bruno. 'Fathers are supposed to be serious. It doesn't matter whether they're greengrocers or teachers or chefs or commandants,' he said, listing all the jobs that he knew decent, respectable fathers did and whose titles he had thought about a thousand times. 'And I don't think that man looked like a father. Although he was very serious, that's for sure.'
'Well, they have very serious jobs,' said Maria with a sigh. 'Or so they think anyway. But if I was you I'd steer clear of the soldiers.'
'I don't see what else there is to do other than that,' said Bruno sadly. 'I don't even think there's going to be anyone to play with other than Gretel, and what fun is that after all? She's a Hopeless Case.'
He felt as if he was about to cry again but stopped himself, not wanting to look like a baby in front of Maria. He looked around the room without fully lifting his eyes up from the ground, trying to see whether there was anything of interest to be found. There wasn't. Or there didn't seem to be. But then one thing caught his eye. Over in the corner of the room opposite the door there was a window in the ceiling that stretched down into the wall, a little like the one on the top floor of the house in Berlin, only not so high. Bruno looked at it and thought that he might be able to see out without even having to stand on tiptoes.
He walked slowly towards it, hoping that from here he might be able to see all the way back to Berlin and his house and the streets around it and the tables where the people sat and drank their frothy drinks and told each other hilarious stories. He walked slowly because he didn't want to be disappointed. But it was just a small boy's room and there was only so far he could walk before he arrived at the window. He put his face to the glass and saw what was out there, and this time when his eyes opened wide and his mouth made the shape of an O, his hands stayed by his sides because something made him feel very cold and unsafe.
Chapter Three
The Hopeless Case
Bruno was sure that it would have made a lot more sense if they had left Gretel behind in Berlin to look after the house because she was nothing but trouble. In fact he had heard her described on any number of occasions as being Trouble From Day One.
Gretel was three years older than Bruno and she had made it clear to him from as far back as he could remember that when it came to the ways of the world, particularly any events within that world that concerned the two of them, she was in charge. Bruno didn't like to admit that he was a little scared of her, but if he was honest with himself – which he always tried to be – he would have admitted that he was.
She had some nasty habits, as was to be expected from sisters. She spent far too long in the bathroom in the mornings for one thing, and didn't seem to mind if Bruno was left outside, hopping from foot to foot, desperate to go.
She had a large collection of dolls positioned on shelves around her room that stared at Bruno when he went inside and followed him around, watching whatever he did. He was sure that if he went exploring in her room when she was out of the house, they would report back to her on everything he did. She had some very unpleasant friends too, who seemed to think that it was clever to make fun of him, a thing he never would have done if he had been three years older than her. All Gretel's unpleasant friends seemed to enjoy nothing more than torturing him and said nasty things to him whenever Mother or Maria were nowhere in sight.
'Bruno's not nine, he's only
Weitere Kostenlose Bücher